The 133rd China Import and Export Fair (also known as the Canton Fair) is scheduled to open in April 2023, fully integrating online and physical exhibitions as China's current entry policy is adjusted and loosened. Manufacturers, suppliers, traders, and service providers from different countries and regions would be showcasing thousand of advanced technologies and solutions. The upgraded exhibition hall will be put into use for the upcoming edition, increasing its total exhibition area to 1.5 million square meters from 1.18 million square meters, presenting more products and providing many more opportunities.

With the Canton Fair 2023 Spring to take place soon, ADTO is proud to participate in and is preparing both online and offline exhibitions to serve a flood of attendees. The highlighted products and solutions that are going to be displayed cover scaffolding, formwork, aluminum ladder, plywood, prefab house, steel pipes, stainless steel products, lights&lighting, safety nets, rebar couplers, packing straps, etc.
As a world-leading building materials and equipment manufacturer and supplier, ADTO has been equipped with 23 scaffolding production lines, and nearly 300 sets of advanced manufacturing and processing facilities, providing a scaffolding monthly production capacity of 300,000 tons and aluminum formwork monthly capacity of 1000,000 square meters. Partnering with the Canton Fair, ADTO will surely provide remarkable experiences for our customers to feast their eyes and boost their business.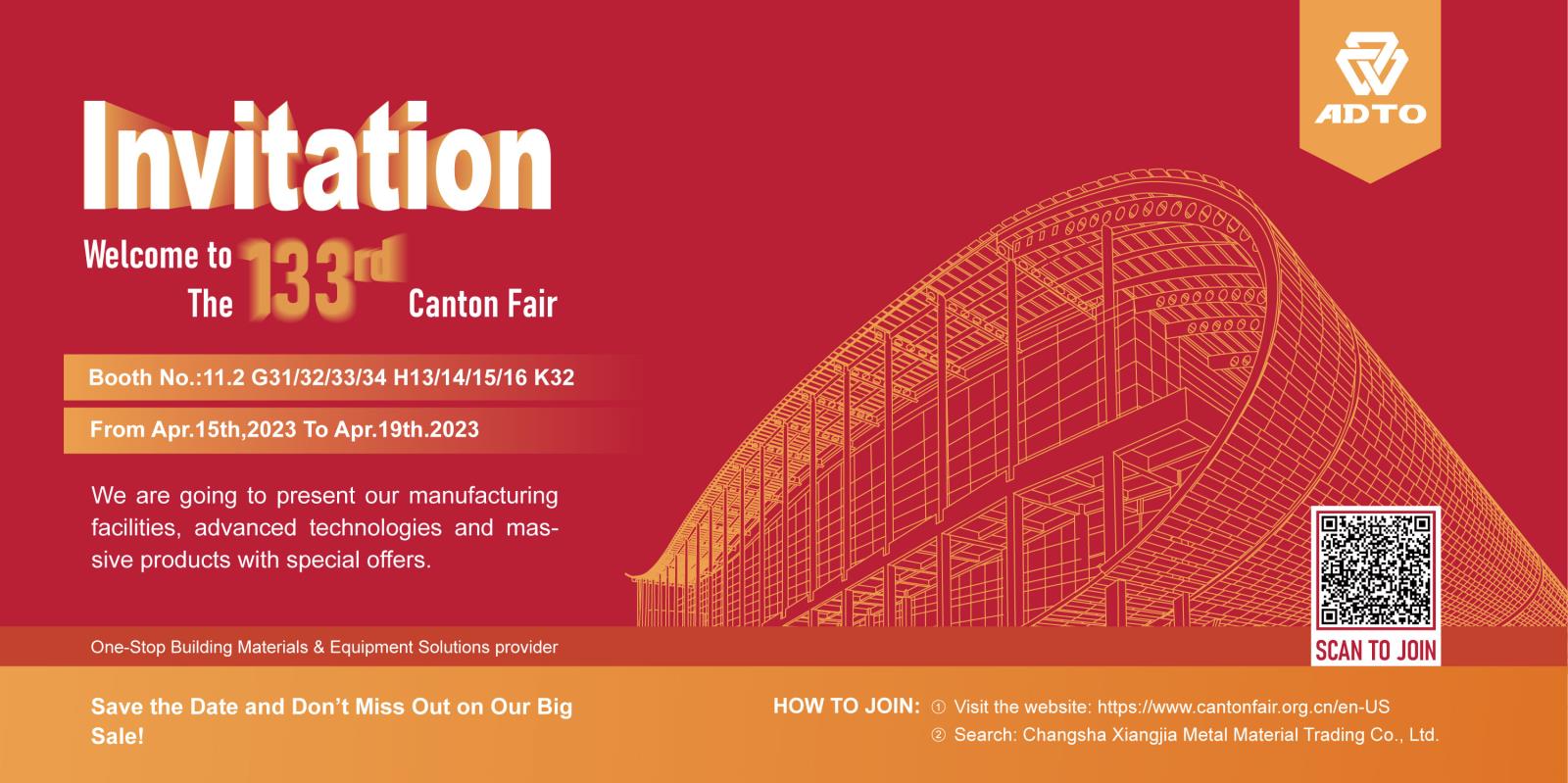 April 15-19, save the date and stay tuned to discover the latest products and build valuable connections.

We are looking forward to seeing you again at the 133rd Canton Fair!
Booth No.: 11.2 G30/31/32/33/34 H13,14,15,16
Date: April 15th -19th, 2023
There are two ways to reach us online:
1. Please visit the official website: https://www.cantonfair.org.cn/en-US and sign in to your overseas buyer account, then search the keywords "Changsha Xiangjia Metal Material Trading Co., Ltd." or "Hubei ADTO Aluminum Formwork Manufacturing Co., Ltd."
2. Please visit our Canton Fair online stores directly: Changsha Xiangjia Metal Material Trading Co., Ltd. OR Hubei ADTO Aluminum Formwork Manufacturing Co., Ltd.